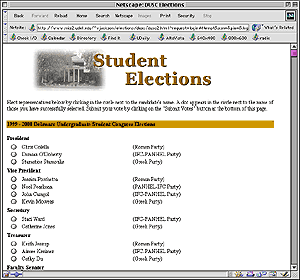 (demo)
Student Elections
Activities & Programs, Student Centers
(Production)
In April 1999, the first online Student Elections were held, with the help of an MIS application. Using their SSN and PIN, students logged in and cast their votes for next year's DUSC, COCO, RSA, and senior class leadership. The application included many safeguards to prevent individuals from casting more than one vote. Also, Activities & Programs and others involved in the election process were able to check in on results and demographics throughout the election days.
Over 3700 students cast their votes in the election, mostly using the online system. This was a drastic improvement over the 86 votes received last year, and was twice the number of votes received in the past four years combined. A story from the Review about the election is available.
The Election application will be reused in the future for the election of Spirit Ambassadors and other student representatives.